ORLANDO, FL Nov. 20, 2019  – Created by The Producers Group (TPG) and powered by Extreme Engineering, THE DARK RIDER™ integrated ride and show system makes its debut at the 2019 International Association of Amusement Parks and Attractions (IAAPA) Expo.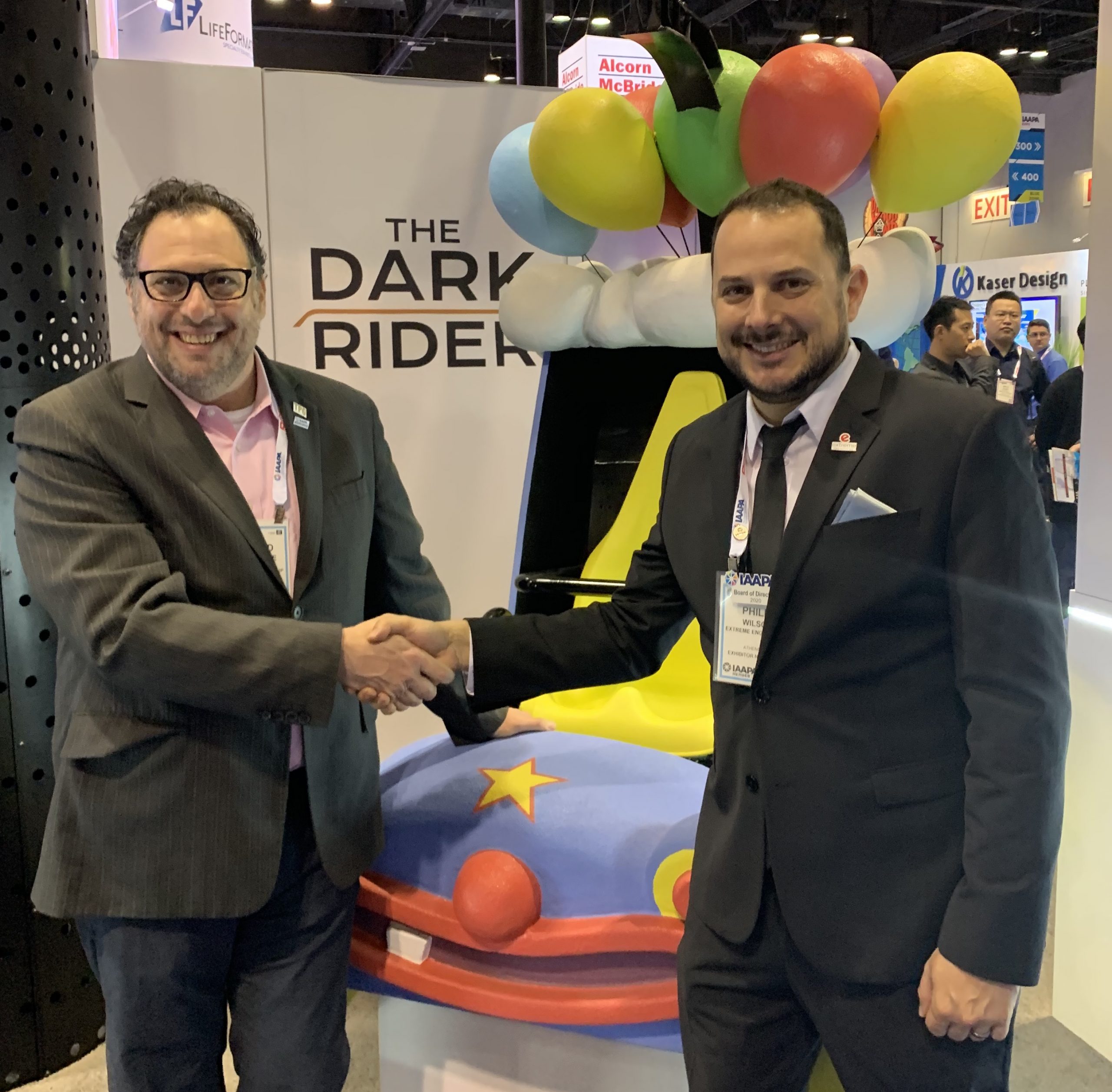 Edward Marks (Founder / Co-CEO of The Producers Group) and Philip Wilson (Executive Vice President at Extreme Engineering) celebrate the debut of The Dark Rider™ at IAAPA Expo 2019.
"Dark rides are as popular today as they were before the theme park as we know it came to be," says TPG's Founder and Co-CEO, Bob Chambers. "The Dark Rider™ carries this legacy forward with a fully designed and configured attraction that brings immersive story and thrills together in one accessible package."
The Dark Rider™ combines a proven aerial coaster track, modular columns, and state-of-the-art components for a cost-effective, turnkey product. This "floating dark ride" is the result of a collaboration with Extreme Engineering, whose coaster technology is critical to the product's success. Extreme Engineering's Executive Vice President, Phil Wilson, says "We are absolutely excited to engineer the official ride vehicle system for The Dark Rider™. Think of what you love about floating dark rides—the sense of soaring, great show scenes—The Dark Rider™ has all of that plus a host of modern features and breakthrough technology."
TPG Founder and Co-CEO Edward Marks notes, "It's a remarkable, one-of-a-kind system that provides unlimited flexibility, saves time and money, and allows owners, operators, and developers to interface with just one company for an entire attraction."
TPG will offer more than the system, however. The Dark Rider™ will initially feature the option of three creative packages, with more in development. "It's been exciting to watch the genesis of the idea blossom into a real product that we know will bring smiles to guests the world over," says Chambers.
IAAPA attendees are invited to view a sample ride vehicle alongside the patent pending system at the heart of the product at Booth 872.
About The Producers Group
The Producers Group (TPG) is a premier provider of production and design services for destination attractions worldwide. TPG specializes in turnkey attractions, production management, technical design, and content development for everything from small projects to entire theme parks. TPG creates the most amazing attractions and guest experiences worldwide by redefining the industry standard. TPG maintains a full-time, in-house staff of highly trained Show Producers, Project Managers, Technical Directors, Technical Managers, Technical Documentation Support Staff, and Specialized Designers of all disciplines.
About Extreme Engineering
With over 23 years in experience and 5,000 customers worldwide, Extreme Engineering has been globally recognized as the primary supplier in interactive fun from family coasters to adventure rides. Extreme Engineering has provided innovative, safe, and exciting attractions to both Fortune 100 and 1000 companies including Six Flags, Disney, Universal, Dollywood, and more. The company behind the revolutionary Cloud Coaster™ is also the first in amusement history to achieve the amazing honor of "Best New Product" 5 years in a row with over 13 industry awards.